HC612
HC 612 Swing Gate TELESCOPIC actuator with 600mm extra long stroke ideal for gates up to 5m /16 ft length each leaf.
12V or 24V version available (24V version is recommended for heavy gates and SOFT STOP options)
Integrated limit stops are availables for easier installation in "FC" version ( only for open position, while closed position of the gate still requires a stopper fixed to the ground)
Telescopic 600 mm extra long stroke  actuator is ideal to be installed on  big gates or large pillars
This electromechanical irreversible actuator comes with 1m outdoor use cable H05RN-F 2 x 1mmq; set of fixing brackets and unlocking key for emergency manual release
Vintage design with unsurpassed reliability
Massive motor-gear unit for reliable power transmission
Actuator can be installed either on the right or on the left of the gate and can also open towards outside the property
Ideal for intensive use in any climate
The gate keeps automatically locked.The self-locking properties of the spindle increase the protection against a dangerous and un-autorised "pressing" of the gate and the otherwise necessary elecktro-locks for the final positions can be omitted but recommended for wings measuring over 2,8m
The HC actuators are nowadays development of the original and countless imitated project dated 1986, made by Lorenzo Ducati, a pioneer in gate automation
2 years warranty. 
Color:  black (special color edition 2016).
TELESCOPIC ELECROMECHANICAL ACTUATOR HC 612
Actuator made of durable materials. Each component is made in the ideal material to ensure quality , reliability in all weather conditions, long lasting performances and safety: our DC actuators ensures double electrical insulation
Stainless steel pipe AISI 304
PR80 steel 3 principles 20mm main screw
Sinterized gears
C40 steel worm screw machined and lapped by rolling machine
Rotor made with double insulated copper Class H 200°C
Extruded painted alluminium
High strengh and double motor insulation: Nylon-glass integrated back fork guarantees double electrical insulation. Durable, withstands all weather conditions
Hostaform® three principles nut screw for a long lasting high-performance
 

Motor power supply (version 24V)

 

12V (24V)
dc motor 

 

(version 24V)
60W (120W)
max pushing & power 

 

(version 24V)
1200N (2400N)
Stroke
600mm
motor speed 

 

(version 24V)
1,5 cm/sec (2cm/sec)
telescopic actuator
√
working cycles limit
continuous use
working temperature
-20°C/+50°C
max wing length
5m/16 ft   each leaf
max.wing weight

 

(version 24V)
350kg (each leaf
max. opening angle
140°
automatic wing lock
 √ irreversible actuator
manual release system
√ by triangular key
Max "C" measure /pillar dimension (see pillar installation diagram instruction manual) to install the actuator avoiding any masonry work on the pillar
32
Compatible with  gate opening towards outside
√
NOTE:
the actuator will stop by amperometrical detection system: it therefore requires mechanical limits to be installed on the ground to stop the gate wing in the open and closed position. Special "FC" version are featured with on-board mechanical limits for the open wing position. Warning: a stopper fixed to the ground is still  required for the closed position of the gate.  
CONTROL BOARD COMPATIBILITY
12V version actuator is compatible to all DUCATI's 12V swing gate opener control boxes 
24V version actuator is compatible to all DUCATI's 24V swing gate opener control boxes 
CLICK HERE to download the instruction manual
| | |
| --- | --- |
| | R9 |
| | R1/600 |
| | R2/600 |
| | R40 |
| | GIU0114 |
| | R37 |
| | R4 |
| | R14 |
| | R15 |
| | R76 |
| | R70 |
| | R39 |
| | R8/818 |
| | R11 |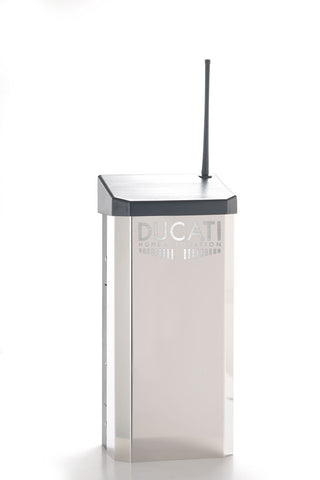 CONTROL BOX
Luxurious Stainless steel control box for swing gate openers with advanced features and easy adjustment 2 versions availables: 12V or 24V featuring quick opening of your door! Ideal for residential &...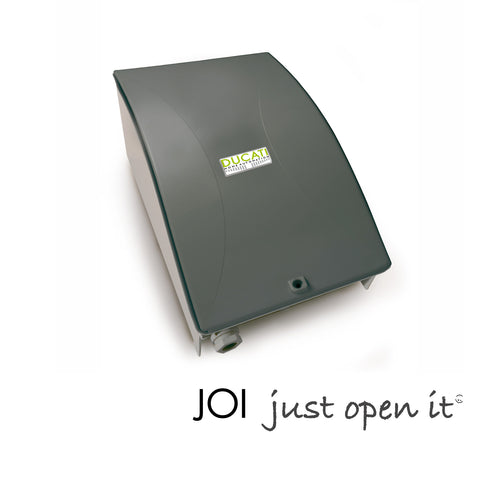 CONTROL BOX
Description The standard Ducati's control box for medium size & high duty double or single swing gate openers 12V Comes with toroidal transformer, electronic board CTH42 featuring DUCATI's rolling coded radio transmission ( on board radio...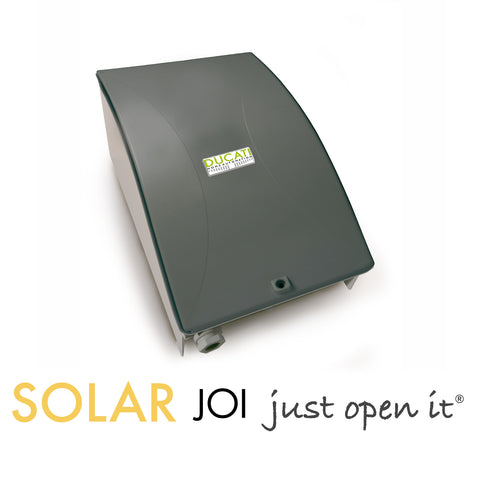 CONTROL BOX
Description Ducati's SOLAR control box for 100%  autonomous use double or single swing gate openers (12V) Ideal for residential use and ensures 100% autonomous use even  where AC power is unavailable. Highly...